I've heard lots of mamas talking about making the transition to a TV-free home (at least for the children) in the last few weeks.  There are countless reasons why a parent would desire eliminate TV.  And while turning it off is as simple as pushing a button, keeping it off and keeping the peace is an intimidating goal to many a mama.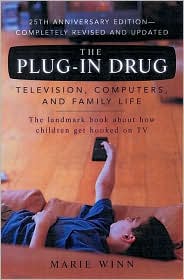 Can we really give up TV? When your kids love watching TV, you wonder if making this change is really possible.  TV is like candy – the more you watch, the more you want.  And, the stronger you want it, the less likely something else is going to fulfill that desire.  Even if your child watches TV just once a day, chances are she'll start asking for it first thing in the morning. 
This focus on TV is what makes breaking the cycle so intimidating.  Mom knows that the kids are going to protest, but what she doesn't know (for sure) is that they won't protest all day for days and days and days.  Honestly, some parents do recount that breaking a strong TV-watching cycle takes weeks of adjustment.  The degree of difficulty is going to be directly related to how often your kids currently watch, how old they are, and your confidence and clarity in declaring your new TV-free lifestyle. 
For us, giving up TV was fairly easy because I was confident and positive.  I showed my daughter that we had better, more fun things to do with our time… and we did them.  I didn't waver and she came to peace with the change within a week (she was 4 years old).  What you need to know, what you need to absolutely believe is that your children WILL ACCEPT YOUR DECISION if you make it with your whole heart, with total confidence that this is what is best for them.  There will come a time when TV-watching is so not on the menu that it doesn't occur to them to ask for it… ever. 
How will I get anything done? Nearly every mom fears that without the occasional TV or movie she'll never have a chance to get housework done (let alone a moment of quiet to just sit down).  I know exactly how this feels, but the truth is that its a vicious circle.  Remember, TV is like candy or an addiction.  Once your child is rid of this addiction, she will be free to discover new ways of passing her time.  And this is the real beauty of going TV-free; your children's play will become more creative and focused than you ever imagined.  This is what frees you up to get your work done! 
I think this is what parents have the most trouble believing – that without the TV your kids can live and play quite happily (more happily than ever) so that life is easier for everyone.  Do you believe that TV is overstimulating and encourages a sedatory lifestyle?  If so, than you've got to admit that it's causing bad behavior because your kids have lots of energy and stimulation to work out as a result of any TV viewing.  And that's not even taking into account the negative habits and attitudes they so often absorb from children's shows.  In effect, you are making more work for yourself by letting your kids watch TV – it's just work delayed to after it's turned off.
You do need to get housework done.  Offer to let your children help, and take the time to incorporate young, willing children into your chores.  This may set them up for a lifetime of happy helping.  If they don't want to help, be loving but clear that you must do your work, so it is time for them to play.  Make some suggestions, perhaps, but leave it at that.  Parents are not playmates.  When we work we model for them how to do so joyfully and as a gesture of love.  If you're inclined, sing while you work – it sets the tone for the whole house!
There's more coming on How To Go TV-Free in part 2.  Until then, for information and inspiration about what's wrong with TV for kids, here are some online links
Screen-time Fact Sheet – Screens & Very Young Children
TV is Not Good For Kids by Peggy O'Mara, editor of Mothering Magazine
TV & Children – The Virtues of TV a tongue-in-cheek essay on the virtues of TV
Many, many books have been written about the negative effects of TV viewing on children.  Here are some I'd recommend:
The Plug-in Drug:  Television, Computers & Family Life by Marie Winn
Einstein Never Used Flash Cards: How Our Children Really Learn– And Why They Need to Play More and Memorize Less by Kathy Hirsh-Pasek